5 things for September 7: Irma, Trump, Russia, Australia vote, Michael Bennett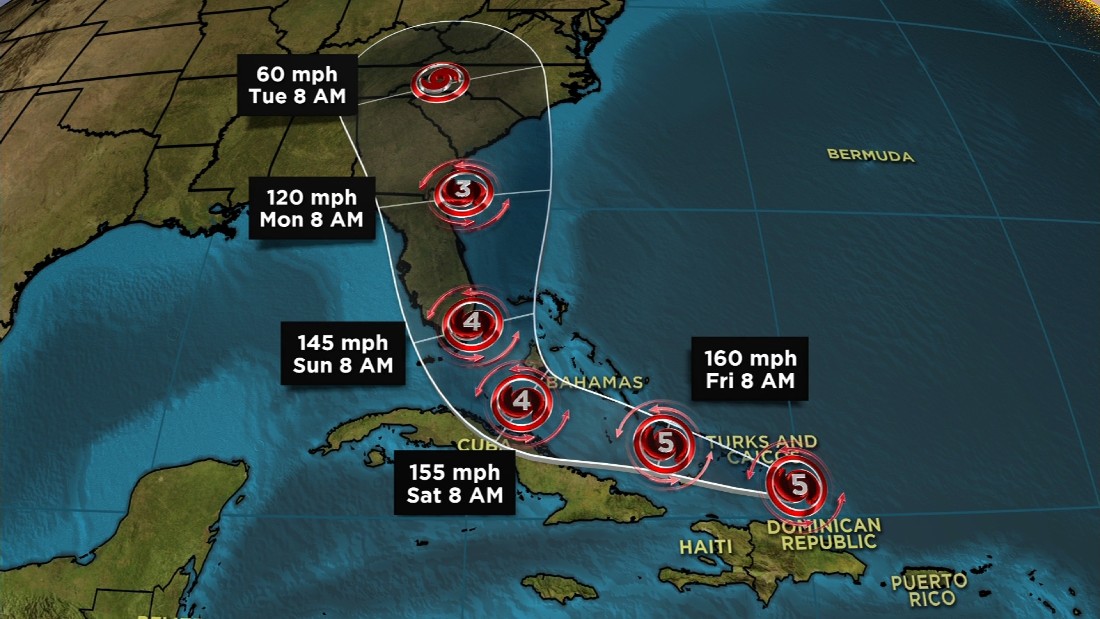 (CNN)After recent deadly collisions, there are new concerns over the readiness of the US Pacific fleet. Here's what else you need to know to Get Up to Speed and Out the Door. (You can also get "5 Things You Need to Know Today" delivered to your inbox daily. Sign up here.)
We still don't know if Irma will hit the US, but people are getting out of the way.
In Florida
, there's gridlock on the roads
as people evacuate
. Governors in North Carolina, South Carolina and Georgia have declared states of emergency.
And Irma, one of the strongest storms ever seen in the Atlantic, isn't alone out there. There are two other hurricanes — Jose, out in the open Atlantic, and Katia, in the southern Gulf of Mexico. It's the first time since 2010 there have been
three active hurricanes
at the same time in the Atlantic Ocean. And we're
only about halfway through the season
.
2. President Trump
Donald Trump likes to brag about making deals — and being unpredictable. This time, it bit his own party. The
President cut a deal
— with Democrats! — to ensure passage of
Hurricane Harvey disaster relief
funding. The deal also raises the debt ceiling (but for only three months) and keeps the government funded through December.
GOP leaders were "shell-shocked"
by it because it puts Republicans in a tough spot. They don't want to
raise the debt ceiling
without getting cuts in government spending in return, but would they dare torpedo disaster relief for Harvey's victims to make that point?
3. Russia probe
4. Same-sex marriage
Australia is going to hold a
national vote on same-sex marriage
. It will be a mail-in vote, and ballots will be sent to Australians starting next week. Voters have until November 7 to mail in their votes, and the final result will be revealed on November 15 — but it won't be binding. Though a recent poll showed
63% of Australians supported same-sex marriage
, domestic politics has stood in the way of making it legal. Prime Minister Malcolm Turnbull has said he will introduce legislation to do just that if same-sex marriage is approved by voters, prompting several conservative politicians to promise to oppose it.
5. Michael Bennett
He
won't stand for the national anthem
before NFL games, and now football star Michael Bennett accuses the Las Vegas police of racially profiling him. Bennett, a defensive end with the Seattle Seahawks, said the cops
put a gun near his head
before handcuffing him after gunshots were heard following last month's Floyd Mayweather-Conor McGregor fight. Bennett says he was detained simply because he was black and in the area of the shooting, but Las Vegas police said race had nothing to do with it and that the officers had genuinely believed Bennett may have been involved in the shooting.
BREAKFAST BROWSE
People are talking about these. Read up. Join in.
Pass the Bordeaux
Richard Branson rode out Hurricane Irma in style — on his own private island,
in a wine cellar
, playing games — because that's how billionaires roll.
Rap the vote
Hey, ladies
For the first time in more than three decades, the semifinals of the
women's US Open
will be an all-American affair.
Makes you want to scream
The King of Pop is gone, but his music lives on. A new Michael Jackson album is due out in time for Halloween.
Doughnuts and subs don't mix?
A NASCAR driver reportedly
lost his sponsorship
with Subway after he handed out Dunkin' Donuts to race fans.
QUOTE OF THE DAY
"I'm a very good diaper guy, which I didn't know I would be"
NUMBER OF THE DAY
200
AND FINALLY …
Cat vs. spider
Another day, another cat video. This time Snowflake the Persian cat freaks out over a very real-looking robot spider. (And who wouldn't?) (
Click to view
)