Dallas photographer: 'Little window into what happened'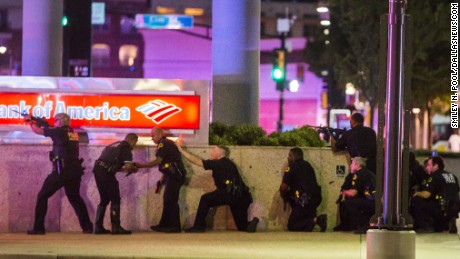 (CNN)What started with photographs of a peaceful protest ended with photographs following multiple deaths.
Five police officers in downtown Dallas were killed Thursday night during a demonstration held in the wake of the fatal police shootings of two African-American men — Alton Sterling in Louisiana and Philando Castile in Minnesota. The sniper attack, which came near the end of the demonstration, also left seven officers and two civilians wounded.
Smiley Pool, a photographer with
The Dallas Morning News
, says what came near the beginning of the demonstration was a scene much different.
"One of the very first photographs I was making was of a little girl spinning and twirling and smiling and laughing in a fountain in the park where the rally was," he said, referring to photo No. 3 in the gallery above. "There she was, a few feet from this Black Lives Matter rally that was about to start, and she's just a little girl enjoying a summer day like every other little girl should be doing on a summer day."
Little did Pool, or the little girl, know that the beautiful summertime day, with the Texas heat and a strong breeze, would turn into a night of bloodshed, gunfire and death.
Pool describes the night in phases: the rally, the march, the shootings, the search, and, finally, the waiting. The mood at the start, he says, was positive and laid back, with people of all kinds coming together in an upbeat manner as police lined the peripheries.
As the speakers started around 7 p.m. and the crowd grew, Pool pulled out his laptop to file some photos.
"I'm kneeling in the middle of the park with my laptop out, sending some early pictures. More to the mood, there are protesters taking pictures of me kneeling there doing my work. And they're laughing. One guy took his cell phone out and took my picture and was like, 'Hey, I gotcha!' and I'm like, 'Hey, at least I look like I'm working. Let my boss see that.' It was friendly."
The march began and although the police presence was considerable — about 100 officers were there — Pool says they, like the demonstrators, were positive.
"They were friendly, professional, they did a masterful job of controlling the traffic flow for the whole march," he said about the officers at the scene. "It was obvious that the objective of the police presence during the march was to keep people safe, and really safe from colliding with cars and traffic."
At one point, Pool says, he even heard a police officer tell a protester, who was doing a mock arrest in the middle of the street, to be safe when near the traffic, that it's dangerous out there.
And during the march, one of Pool's high school friends mentioned to him that this was one of the bigger turnouts she had seen and, as the march continued, Pool says he and a colleague decided to run quickly up a parking garage so they could get an overhead shot of what turned out to be a crowd of about 800 people. That was around 8:40 p.m.
At about 8:45 p.m., Pool needed to file more photos so he could meet his newspaper's print deadline. He left the parking garage and made his way back to his car, where his laptop was.
"I came down the elevator, caught like the last end of the march, so it was a few stragglers," he said. "I made a picture from behind of one lone protester kind of on an almost empty street. She was one of the last ones as the police presence was moving their way up from the back."
Just moments later, around 8:55 p.m., everything changed.
"At 8:47, I'm shooting the last stragglers from ground level moving down the street, mostly with the police coming back," he said. "At 8:55, I'm making photographs of police on the ground with their guns drawn because the shots had been fired."
Immediately, Pool threw his laptop on the floor of his car, grabbed his cameras, opened the door to get out, got one step out of the car, "and then just heard: 'POP, POP, POP, POP, POP, POP, POP, POP, POP, POP!' "
"I grabbed my cameras and hit the deck," Pool said. "Everyone is either running or on the ground. … One officer yells over to me to stay low, because the shooter is high, which is the first time I'm aware that perhaps the shooter is in the parking garage — possibly the same parking garage I had just come down from."
He adds that where he was, the police were "very focused, very on their game." The image showing a line of officers against the wall with their guns drawn — No. 6 — was made while Pool looked down the street as he was squeezed between some cars and behind a police officer for cover.
And in photo No. 7, Pool says police officers moved to the location of two civilians.
"A police officer comes up, gun drawn, looking up to the parking garage, to provide cover, while the other two officers evacuate those two guys who were pinned down between cars right near the shooting," he said. "Even when the attack is going on, the officers are still protecting the public that was out there. First, it was protecting them from cars, now, they're protecting them from bullets."
Pool notes there were about 20 to 30 rapid-fire shots, and then nothing, and emphasizes that he had no way of knowing who was doing the shooting, nor did he see everything that was happening. He was about a block and half away from where the shootings took place, and it was about a 10-minute span of time that he was able to make photographs as the events unfolded.
"People have asked me, 'What did you see?' " he said. "I saw that little window into what happened. I'm sure it looked different from down the street or around the corner. It's just one of those: You see what you see from where you are."
Police then worked to move everyone, including Pool, out of the area of the shooting and into safety. That's when the period of searching and waiting began.
"At this point, you can't see or hear anything that's going on," Pool said. "There's not a tension, it's more of a nervousness. … And interestingly enough, I made some new friends among some of the protesters who were in the same boat. A delightful young woman came up and asked me if she could plug into my laptop to try to get a charge on her phone with the USB cable so that she could call her parents, so I was like, 'Yeah sure, I don't have a lot of juice, but juice up so you can call your folks, I'm sure they would love to hear from you.' "
He adds that strangers even showed up, offering people water.
"It was almost a full circle of a simple moment of a child playing in a fountain, to this horrible life-threatening moment for hundreds and hundreds of people, that took the lives of a bunch of law enforcement officers who had spent the entire evening keeping that crowd of people safe," Pool said. "And it circles back to moments of kindness between people stuck out in the street, waiting to get back to their homes or waiting to get back to their cars. The arch of the night was really striking to me."
After the night's events, Pool says he received a text message from a dear friend of his: "Was your instinct to take cover greater than your instinct to make a picture?" it read.
"I can't answer that question," Pool told me. "Right now it feels 50-50. On the one hand, I'm like, this is real. It sounds like the bullets are whizzing over you but, who knows, they might not have been. I can't see where the shooters are. All I'm hearing is pops, and I'm hearing whizzing sounds over our heads. Now, that could be echoes from downtown buildings, or it could be I was in the line of fire — I don't know. I've never been in these situations, I don't know. I just know, it just got real. And on the other hand, I'm like, I've gotta get this picture in focus."
He adds that he never quite felt his life was in danger, but he did feel he was in a "very vulnerable position." Earlier in the week, Pool photographed the Fourth of July fireworks festival and some Olympic fencers. His day-to-day work is far from what he experienced Thursday night.
"A lot of people have an image of photojournalists that is all death and destruction," he said. "I take pictures of ball games. … I could have just as easily been assigned to cover the Rangers baseball game (Thursday) night. But here you are in this moment that sort of encapsulates a lot of the fear and anxiety of what, not just our country, our entire civilization, is grappling with, and here you are in the middle of it."
The 50-year-old Texas native says that while this is a completely heartbreaking incident, he "absolutely" could imagine something like this would happen in his home state.
"I realize that the universal bad that is among us is not confined to a particular geography or a particular community or a particular people," he said. "There are dangers everywhere. Is it profoundly sad to happen in your own community? Absolutely. But nobody's immune. That's the one thing I think we all can recognize. No community is immune to any kind of tragedy."
This tragedy, however, was particularly difficult for him. He's covered natural disasters before, such as Hurricane Katrina, and says it's easy to understand and accept that mother nature is simply more powerful than all of us.
"It's more difficult to wrap your brain around dangerous actors who are among you, who apparently think nothing about doing tremendous harm to people going about their everyday lives," he said. "That part is saddening and it's troubling. That's one of the multitude of things that people will be struggling with."
Ultimately, he describes the entire 12 hours as "surreal," and says this experience has served as a reminder of what is truly important in life.
"Cherish the things that are dearest," Pool said. "I think I will focus on that for a moment."