Dear Hollywood, Let Broadway Show You What Diversity Looks Like
This morning, the sweetheart of musical theater, "Hamilton," shattered records by earning 16 Tony Award nominations in categories spanning acting, directing, composition, design, choreography and more.
The recognition was hardly surprising, given the fact that the production has dominated headlines, skyrocketed to the tops of Spotify playlists, and essentially sold out its shows until January of next year. Tony speculators were practically licking their lips in anticipation of Lin-Manuel Miranda's domination, predicting weeks before the announcements that his hip-hop-infused musical relaying a different kind of Founding Fathers' saga would surpass "The Producers" and "Billy Elliott," securing a record number of nods for any one Broadway show.
Just because the nominations weren't surprising, though, doesn't mean they aren't exciting.
The nominations for "Hamilton," along with other plays and musicals like "The Color Purple," "Eclipsed," "On Your Feet!," and "Shuffle Along," reveal a picture of Broadway far more diverse than seasons before it. These shows feature actors of color in lead roles, highlight the experiences of women and minorities in the U.S. and beyond, and empower writers and directors breaking barriers in their categories. They prove, along with a litany of shows that weren't nominated, that this year was a different kind of year for the Great White Way.
Mashable's Aliza Weinberger summarized the broader 2015-16 season succinctly:
Of the 15 new musicals that premiered between the fall of 2015 and the spring of 2016, 11 feature cast members of color. Four of those shows include only actors of color in their lead roles. And of the 16 returning shows running this season, eight feature diverse casts and stories — ones that don't just focus on white people and their problems — while six more boast non-white cast members.
"Diversity is the theme for the entire season," Tony-winning producer Ken Davenport ("Kinky Boots," "Spring Awakening") explained in an interview with The Huffington Post. "We're experiencing a selection of shows that nominators have to choose from… it's the most diverse group of artists and shows we've seen. Especially when compared to the lack of diversity in Hollywood."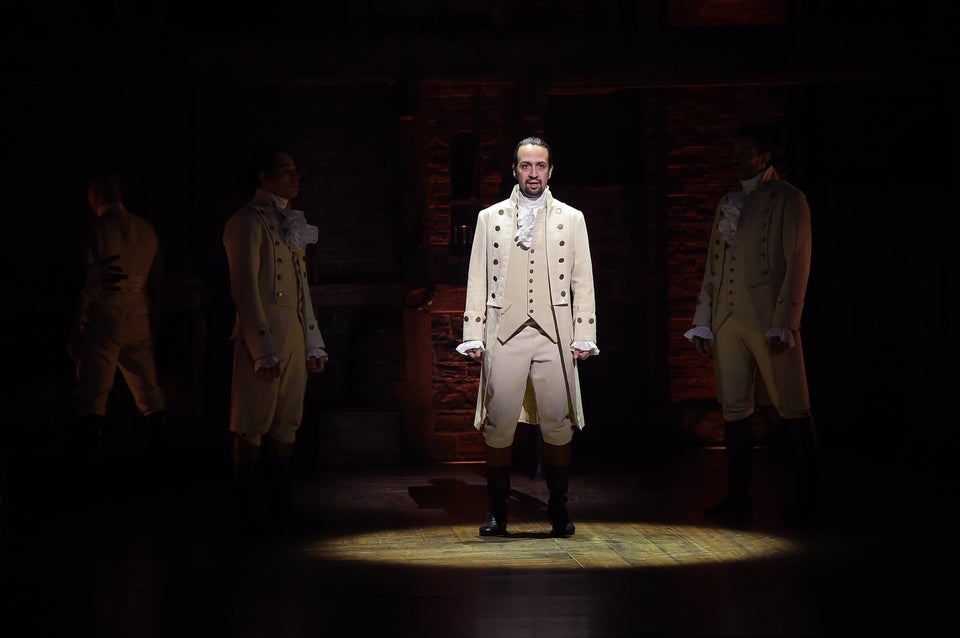 Broadway's offering something that Hollywood isn't.
The pop culture world was rightly angry when the Oscars recognized only one person of color in its lead categories (Best Director, Best Picture, and all four acting categories): Alejandro G. Iñárritu for "The Revenant."
However, following a year of #OscarsSoWhite, critics across the Internet are using a different kind of hashtag ahead of the theater world's version of the Academy Awards: #TonysSoDiverse. To compare, in its lead categories (Best Book and Best Score, and all eight acting categories), the Tonys recognized a highly deserving and robust group of acclaimed writers and actors of color this year:Danai Gurira, Pascale Armand, Saycon Sengbloh and Lupita Nyong'o for the play "Eclipsed"; Miranda, Leslie Odom, Jr., Phillipa Soo, Daveed Diggs, Christopher Jackson, and Renée Elise Goldsberry for "Hamilton"; Cynthia Erivo and Danielle Brooks for "The Color Purple," George C. Wolfe, Adrienne Warren and Brandon Victor Dixon for "Shuffle Along"; and Sophie Okonedo for "The Crucible."
While Broadway has long been a venue for storytelling that moves beyond cis white male American history (think: "Rent," "Fun Home," "West Side Story," even Miranda's previous "In The Heights"), a quick look at the plays and musicals offered up to Broadway-goers this year gives a glimpse into why the Tonys are putting the Oscars to shame this year in particular.
Davenport first lists the familiar "Hamilton" — filled out by a largely non-white cast of singers and dancers — as an "exceptionally diverse" example of this year's Broadway offerings, and a reminder of how casting can work in favor of the non-realistic, imaginative art form that is theater. "The brilliance of it is that none of the people on the stage look like the Founding Fathers," he said. "By making specific choices, from actors to the music, we can make a strong artistic statement."
The stories being told this year — I think, finally, they're all American stories. They don't just have to [feature] a bunch of white faces, we know that now. Ken Davenport
Productions like "Shuffle Along" (subtitled: "the Making of the Musical Sensation of 1921 and All That Followed") and a revival of "The Color Purple" similarly give way to strong casts of people of color, telling stories that go beyond white narratives. Gurira's "Eclipsed" relays the tale of five women brought together by political upheaval in their home country of Liberia, featuring the first all-black, all-female cast. It's also directed by a black woman, Liesl Tommy.
This year's musical productions have also drawn audiences to stories told by historically marginalized minorities including Asian- and Hispanic-Americans. The musical "On Your Feet!," based on the lives and music of Cuban-American singer Gloria Estefan and her husband Emilio, stars a predominately Hispanic cast including Ana Villafañe and Josh Segarra. The musical recounts Gloria and Emilio's efforts to cross over from the Latin market, cracking relevant jokes along the way: "You know how white those people are?" Emilio asks while in Sweden. "It was like watching a room full of Q-Tips bouncing all over the place."
Jay Kuo's "Allegiance," which did not nab a Tony nod despite an acclaimed performance by George Takei, relays the story of the Kimura family, a part of the 120,000-person group of Japanese-Americans forced into internment camps following the events of Pearl Harbor during World War II. And there's still more productions lifting up writers and actors of color: "Amazing Grace,""Disaster!," James Earl Jones and Cicely Tyson in "The Gin Game," Forest Whitaker in "Hughie."
"The stories being told this year — I think, finally, they're all American stories," Davenport told HuffPost. "They don't just have to [feature] a bunch of white faces, we know that now."
Davenport even hoists up his own Tony-nominated show "Spring Awakening" as yet another example of the many sides of diversity we're seeing in the 2015-2016 Broadway season. "Half of the cast is deaf or hard of hearing," he added, "and it features the first ever woman in a wheelchair. It's hard to believe it's taken this many years for that to happen."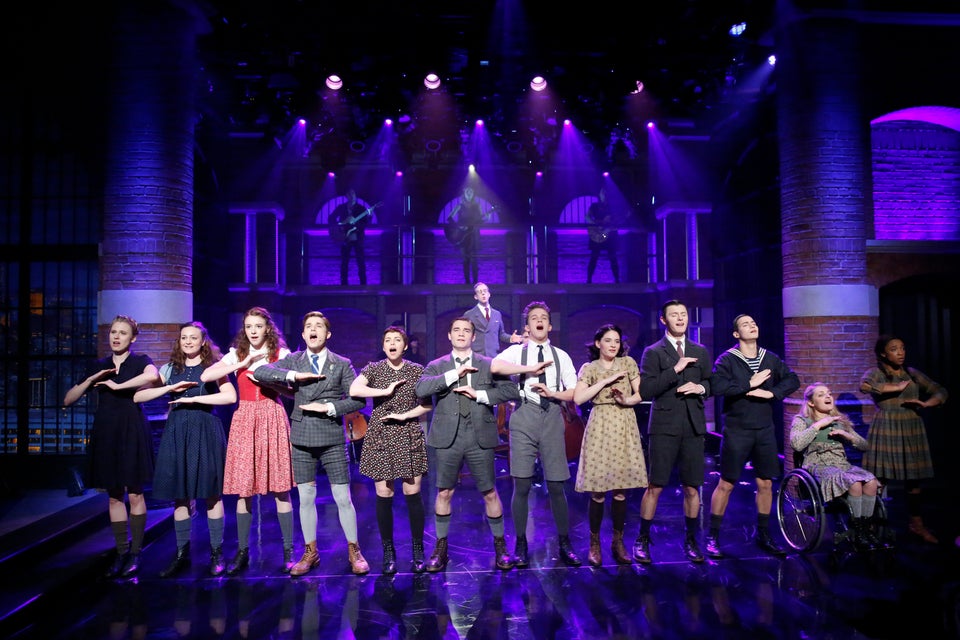 OK, so Broadway isn't perfect.
"It's been an extraordinary year for diversity on Broadway," "Hamilton" star and creator Miranda told Here & Now's Karyn Miller-Medzon. "But that being said, it's all an accident of timing."
Last year's Tonys, he emphasized, were just as white as this year's Oscars. So before producers and directors pat themselves on the backs, Miranda thinks its worthwhile for the theater industry to recognize that this year could be a lovely anomaly if steps are not taken to ensure that the "three theater owners and 40-something theaters" that make up Broadway are continuously working to bring diversity to upcoming seasons.
In fact, a Guardian article written in August of last year remarked specifically upon the absence of plays by women or writers of color. Writer Alexis Soloski noted that less than 25 percent of plays produced in America during the 2014-2015 season were by women, while over the last three years, only 12 percent of American plays were written by people of color. Perhaps casts look different today, but the writers' rooms, Soloski posits, are still very white.
Forbes published a similarly dismal report earlier this year, comparing Broadway's historic lack of diversity on and off stage to #OscarsSoWhite. "Since the awards began — 1929 for the Oscars, 1947 for the Tonys — over 95 percent of all nominees have been white, with the Tonys recognizing more people of color by 1 percent," Lee Seymour wrote. "The big difference is in the ratios: The Tonys recognize twice as many black artists, but the Oscars recognize three times as many Asians and Latinos."
The New York Times' Michael Paulson acknowledged that other smaller plays have also been able to draw diverse audiences with diverse casting choices, including a revival of "Fences" with Denzel Washington and Viola Davis, and Chris Rock's "The ________ With the Hat." But because these plays generally have limited runs in smaller theaters, they tend not to influence the larger theater landscape like a longstanding musical or play can. This is why this year's list of Tony Award nominees — stacked with nods for "Hamilton," "The Color Purple," "Off Your Feet!", "Spring Awakening" and "Shuffle Along" — is so important.
Unfortunately, according to some predictions, the next season on Broadway is unlikely to be as diverse as this one. Broadway has never experienced a season as diverse as this past year, at least when it comes to the people on stage. And if theater bigwigs want to ensure that diversity in theater is a movement, and not a moment, they'll have to address the lack of women and people of color behind the curtain.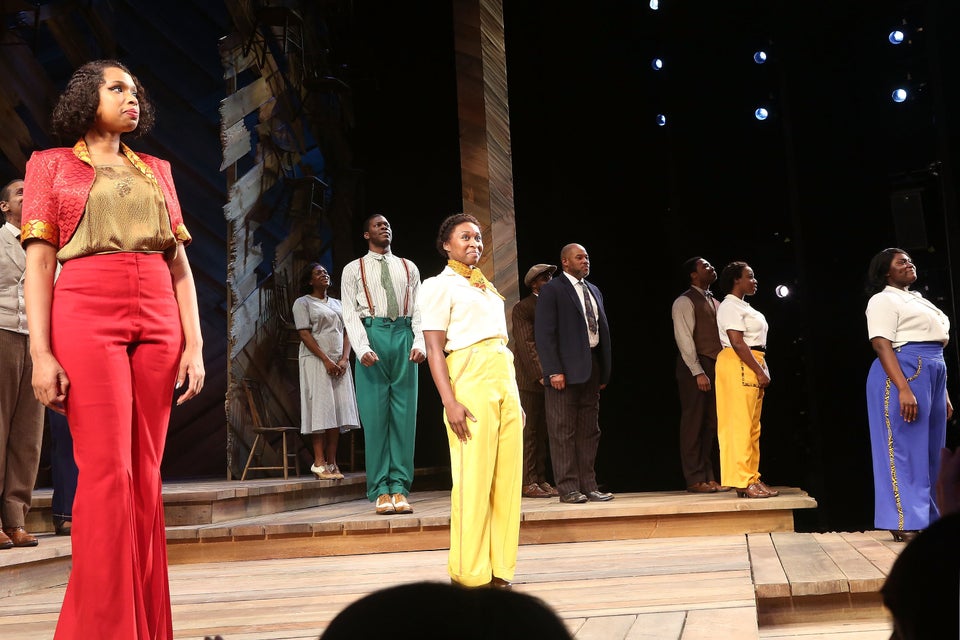 So what can be done to ensure #TonysSoDiverse continues?
It's no secret that money — and the potential for making it — is a driving force behind a Broadway season. "Broadway's decision-makers simply don't prioritize racial equality," Seymour wrote in another Forbes piece. "Several producers and ad execs … told me that 'green is the only color that matters.'"
In essence, financial calculations are being made, and those calculations rest at least partially on audience statistics: Who exactly, the producers ask themselves, will buy our (oftentimes highly priced) tickets? Well, women, first of all. "Women generally represent 68 percent of the audience," The Broadway League reports. "Moreover, women are more likely to make the purchasing decision than their male counterparts."
The Broadway League also found that the predominately white audiences have been slowly declining; while 83 percent of Broadway goers were white five years ago, today the count measures 80 percent. Mashable points out that we'll have to wait until 2017 before we know how demographics have changed this season, but there's reason to believe Broadway mined new audiences in 2016, and theater executives should take note.
Theater unions have been doing their part to raise awareness of the importance of diverse cast and crew choices, too. Ultimately, though, in order to ensure that #TonysSoDiverse continues, and that new crops of audiences venture to Manhattan, the theater community needs more diverse writers telling stories that move beyond the traditionally white experience.
If you want more diversity on our stages, than we need diverse writers.
"If you want more diversity on our stages, than we need diverse writers," Davenport reiterated in our interview. "I like to use this analogy: If you want a different color flower, you plant a different seed, a seed that grows roots and sprouts the type of flower that you want. The seeds in this analogy are the writers. Of course, people tend to write what they know. The more diverse writers, the more female writers, the more we'll see those types of experiences."
Zakiyyah Alexander, a member of the Kilroys, a group of Los Angeles-based producers and playwrights tackling gender parity in the theater world, agrees. As HuffPost reported last year, the Kilroys are behind an annual project subtly titled "The List," which collects together the names of female and trans playwrights who've written plays in the past year. "We created The List because time and time again we heard that artistic directors would love to produce female playwrights, but were having trouble locating good plays," Alexander explained to The Huffington Post. "Ultimately, we know it's possible to program an exciting season of theater that reflects the landscape we live in, which is more than just a landscape of men."
We'll have to wait a few months before we know what's on the Broadway horizon in 2016-17, but in the meantime, Hollywood executives should be taking notes. Studio heads need only tune into to the Tony Awards this June to see what a truly diverse celebration of the entertainment industry looks like. And they need only peruse the #Ham4Ham chronicles of social media to know that audiences are on board.