Donald Trump blames 'dishonest media' in furor over 'antisemitic' Clinton tweet
Presumptive GOP nominee rejects criticism of star of David tweet as Anti-Defamation League chief slams sixth or seventh invoking of bigotry or racism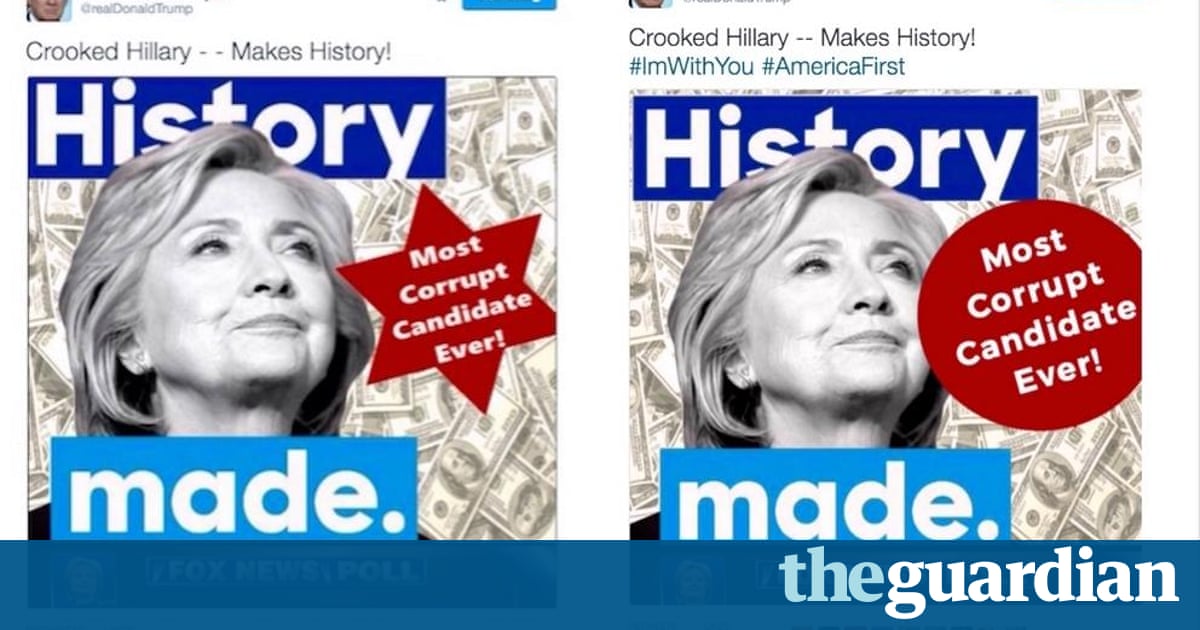 Donald Trump responded on Monday to a swirling controversy over an apparently antisemitic tweet featuring Hillary Clinton which he subsequently deleted.
Using Twitter again, Trump said: Dishonest media is trying their absolute best to depict a star in a tweet as the Star of David rather than a Sheriffs Star, or plain star!
Later, he put out a statement on his website blaming Clinton for false attacks and said that linking the star with antisemitism was ridiculous.
Clinton, through her surrogates, is just trying to divert attention from the dishonest behavior of herself and her husband, the statement said.
The argument that the star in the original tweet, which had six points and was superimposed over an image of $100 bills, was not a star of David was first used by Trumps fired campaign manager, Corey Lewandowski, in an appearance as a CNN pundit on Sunday.
The image in Trumps original tweet was traced by the news site Mic to a white supremacist message board. Trumps tweet was deleted on Saturday and replaced by a similar image featuring a circle rather than a star.
Clinton, whom Trumps tweets labelled Most Corrupt Candidate Ever!, has not commented. On Monday her campaigns director of Jewish outreach, Sarah Bard, issued a statement.
Not only wont he apologize for it, Bard said, hes peddling lies and blaming others. Trump should be condemning hate, not offering more campaign behavior and rhetoric that engages extremists. The president should be someone who brings Americans together, not someone who sends signals and offers policies of division.
On Sunday, the Libertarian candidate for president, Gary Johnson, told CNN in a wide-ranging conversation: He has said 100 things that would disqualify anyone else from running for president but it doesnt seem to affect him. The stuff hes saying is just incendiary. Its racist.
On Monday, the chief executive the Anti-Defamation League condemned Trumps tweet as further evidence of extremist sympathies within the Trump campaign.
Weve been troubled by the tone of this campaign for the past six months, said Jonathan Greenblatt, national director and CEO of the Anti-Defamation League, also speaking to CNN.
The first time something like this happens, like the quote from [in fact attributed to] Mussolini, its called a mistake. The second time it happens, like you re-tweet from a white supremacist Twitter account, thats sloppy. But were now at the sixth or seventh time the Trump campaign has invoked bigotry or racism. Its a pattern thats perplexing, troubling and wrong.
At minimum, said Greenblatt, the deleted tweet raised questions about why a national presidential campaign could be looking at racist websites or antisemitic sections of online sources and using such searches to find content to share with the public.
Greenblatt said the tweet was a dog-whistle to neo-Nazis that did not belong in the campaign.
These bigoted and prejudicial ideas dont belong in the conversation, Greenblatt said. Donald Trump is the presumptive GOP candidate and wed like to see him speak out with the same energy he brings to the campaign to call out white supremacists.
We want to him to make it clear that bigotry and antisemitism has nothing to do with making America great again.
Bard echoed Greenblatt, saying in her statement: Donald Trumps use of a blatantly antisemitic image from racist websites to promote his campaign would be disturbing enough, but the fact that its a part of a pattern should give voters major cause for concern.
A Trump surrogate, Boris Epshteyn, appeared on CNN. He said the ADL was a notoriously left-leaning Jewish organisation, adding that a lot of conservative-leaning Jews disagreed with the ADL on a lot of its stances.
I will not stand for the idea that a tweet like this was antisemitism, Epshteyn said. It was a mistake and it was taken down. End of discussion.
On Monday, Dan Scavino, the Trump campaigns social media director, said the star was not sourced from an antisemitic website, but lifted from an anti-Hillary Twitter user where countless images appear.
Scavino said: The sheriffs badge which is available under Microsofts shapes – fit with the theme of corrupt Hillary and that is why I selected it.
As the Social Media Director for the campaign, I would never offend anyone and therefore chose to remove the image.
This not the first time Trump has been linked to antisemitic or white supremacist views. In February, he was asked repeatedly about the Ku Klux Klan and its notorious former grand wizard, David Duke, and refused to immediately disavow Dukes expressions of enthusiasm for his campaign. When he did disavow Duke, he failed to articulate why the Klans white nationalism was wrong.