Grace Mugabe's whereabouts unknown after alleged assault in South Africa
Zimbabwean first lady alleged to have attacked 20-year-old Gabriella Engels in Johannesburg hotel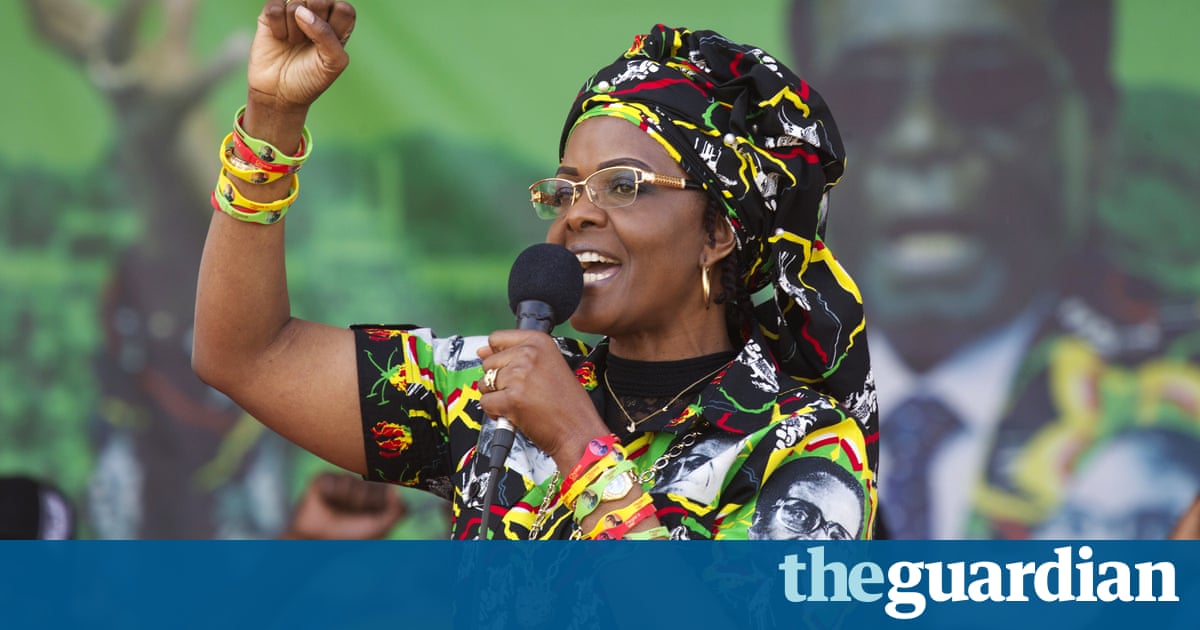 Lawyers for Grace Mugabe are negotiating with South African authorities after Zimbabwes first lady failed to hand herself in to police over allegations she assaulted a woman in an upmarket Johannesburg hotel at the weekend.
We have identified a suspect but she hasnt handed herself over yet. We do not know her whereabouts at this stage, said a police spokesman, Vishnu Naidoo. The negotiations over the suspect handing herself over have not concluded.
South Africas police minister, Fikile Mbalula, had earlier said the increasingly outspoken wife of the worlds oldest head of state, 93-year-old president Robert Mugabe, would appear in court on Tuesday.
The first ladys apparent breach of an agreement with police to hand herself over and subsequent disappearance now threaten to trigger a diplomatic incident between Zimbabwe and South Africa, which share a border and have close economic and political ties.
Mugabe is suspected of beating Gabriella Engels, a 20-year-old model, with an electrical extension cord at the luxury Capital 20 West hotel in Johannesburgs Sandton district on Sunday evening.
Pictures on social media appear to show Engels bleeding from her forehead after Mugabe allegedly arrived at the hotel with bodyguards and accused Engels of living with her sons, Robert and Chatunga, both in their 20s and based in the city.
We were chilling in a hotel room, and [the sons] were in the room next door. She came in and started hitting us, Engels told local media. She flipped and just kept beating me with the plug, over and over. She said she had no clue who her attacker was until the alleged assault was over.
Engels said she had no idea what was going on … I was surprised. I had to crawl out of the room before I could run away. Accusing the first ladys bodyguards of standing by and watching during the alleged assault, she added: The front of my forehead is busted open. Im a model and I make my money based on my looks.
Police confirmed a 20-year-old woman had filed a case of assault with intent to do grievous bodily harm. It was not immediately clear whether Mugabe was travelling on a diplomatic passport or would qualify for diplomatic immunity if police do eventually bring charges against her.
South African media said Grace was in Zimbabwe to have an injured foot examined. The countrys foreign affairs spokesman, Clayson Monyela, said the trip was a private visit and the government would not be getting involved. But Sizakele Nkosi-Malobane, a provincial minister, said the case should go to court. We hope that it will send a strong message to all leaders who abuse their power and assault innocent people in our country, she told Jacaranda FM.
Opposition figures in Zimbabwe also called for Graces prosecution. We want the South African police to arrest Grace Mugabe, the leader of Zimbabwes Communist party, Nqabutho Mabhena, told the Mail & Guardian: You cannot beat up a young lady for going out with your son.
Police sources said Grace had originally agreed to hand herself in at 10am local time but failed to do so. Asked if she was now considered a fugitive, the sources told Reuters that was not the case at this stage, although she had agreed to hand herself in, but never did.
The incident is not the first time Mugabe has been accused of violent behaviour and assaults on overseas trips. In 2009 she punched a British photographer in Hong Kong for taking pictures of her at a luxury hotel.
Grace was one of Mugabes secretaries when their affair began in 1987 and the couple had two children in secret before the Zimbabwean presidents wife died in 1992. Their lavish 1996 wedding was attended by Nelson Mandela.
Long thought to be more interested in extravagant shopping sprees than politics, she has gradually become more active in public life and in 2014 became the head of the ruling Zanu-PF partys womens wing.
She now regularly attends rallies across the country and showed her political ambition in 2014 by launching a ruthless campaign against the then vice-president, Joice Mujuru, a potential presidential successor.
Last month Grace challenged her increasingly frail husband publicly for the first time to name a successor, potentially positioning herself as a runner before elections due next year.