'I am not afraid': the Delhi student facing death threats for taking on India's right wing
When Gurmehar Kaur posted a note of defiance on Facebook she became the subject of national debate and a torrent of abuse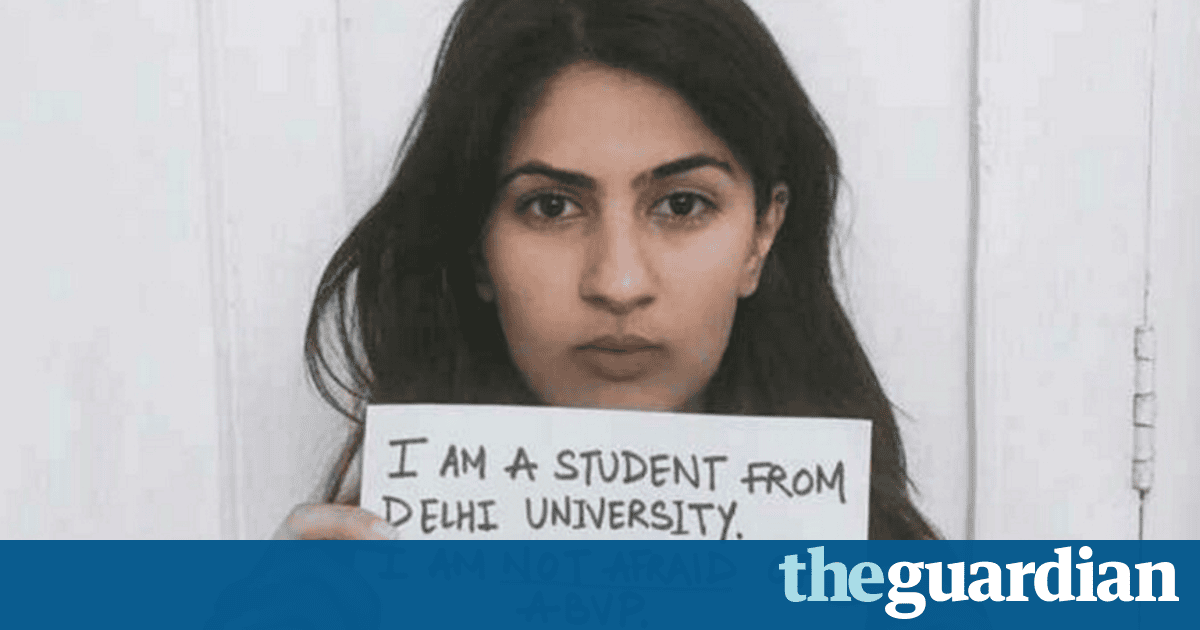 The photograph that led to Gurmehar Kaur being put under 24-hour police protection was taken by her best friend on a camera phone in her university dorm room. The simple colour shot shows her holding a placard saying she would not be intimidated by a rightwing group she accused of disrupting her college.
Only hours after she posted the image to Facebook, Kaur, a 20-year-old English student at Delhi University, found herself at the centre of a national debate that, for weeks now, has fed television shows, news stories and editorials and has involved politicians, film stars and the former captain of Indias cricket team.
The debate has thrown into the spotlight not only the issue of online abuse but also the political climate in India where universities have become key political battlegrounds and where powerful rightwing student bodies have mass political support.
The story of Kaurs domestic incarceration has its roots in a video she appeared in last year that briefly led to her becoming becoming a minor viral sensation. She made the four-minute clip in which she recounted the pain she felt over the death of her father an Indian army captain who was shot on duty in the 1998 Kargil war between India and Pakistan.
The video proved to be both provocative and enlightening because it was open and honest about her feelings she said that until recently she had hated all Muslims, blaming them for taking her father away from her.
In that video she had again used a placard to make a point about the need for peace, stating at one point Pakistan did not kill my dad, war killed him.
The YouTube video and the Facebook photograph were meant to be unconnected but they soon became entwined. Within minutes of posting the picture, her phone had started buzzing. At first, it was just likes and friendly comments from supporters but soon a flood of angry messages poured in.
Nationalists were furious. They were searching for details of her life, unearthing the video from last year and using it to attack her. One man said Kaur was leveraging her fathers death. Others called for the 20-year-old student to be raped or murdered.
Kaur was at first unflustered. Critics of the Akhil Bhartiya Vidya Parishad (ABVP), the rightwing student organisation she had singled out, often face an army of online trolls, many of whom have the Indian flag or Hindu iconography and slogans on their profiles.
But soon people were posting images that parodied the video she made about her father.
Photos of Osama bin Laden carrying the tagline Did not kill people, bombs did, or of Adolf Hitler with the slogan Did not kill Jews, gas did spread across Twitter and Facebook.
Soon celebrities joined in. A government minister went on national television and said Kaurs mind has been poisoned . Virender Sehwag, former captain of the Indian cricket team, posted an image of himself carrying a placard that read I did not score two triple centuries, my bat did.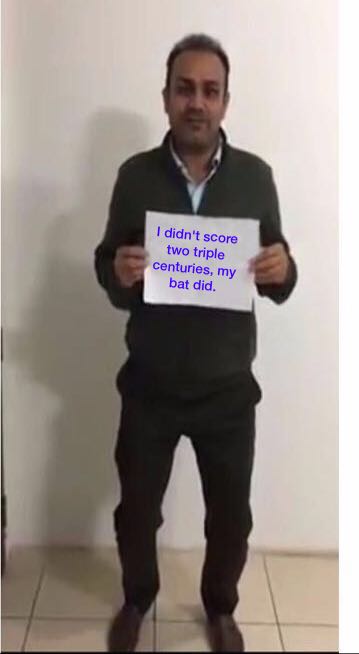 The Bollywood actor Randeep Hooda also joined in, tweeting that Kaur was being used as a political pawn.
It was heartbreaking, Kaur says. It is so sad to see some one you admire saying these things about you.
Hoodas message, Kaur said, devastated her, because she had been a fan of his films. She wrote back, saying: Really sweet of you to encourage the hate Ive been receiving. Hooda later apologised saying: In hindsight, I do believe should have been more careful.
I have been receiving an enormous amount of hate, Kaur tells the Guardian, speaking from her home outside Delhi where she is waiting for the political row to die down while under police guard.
I dont understand why. People are making memes about me, trolling me. Ive stopped checking my phone because it would kill me. It makes me sad that this is how people think. Why is there this whole environment where its OK to tell girls youll be raped if you voice your opinion?