Is this man the future of US comedy? Say hello to Jermaine Fowler
The stand-up turned sitcom star is unapologetic about his desire to reach as large an audience as possible, but can he do it while being woke?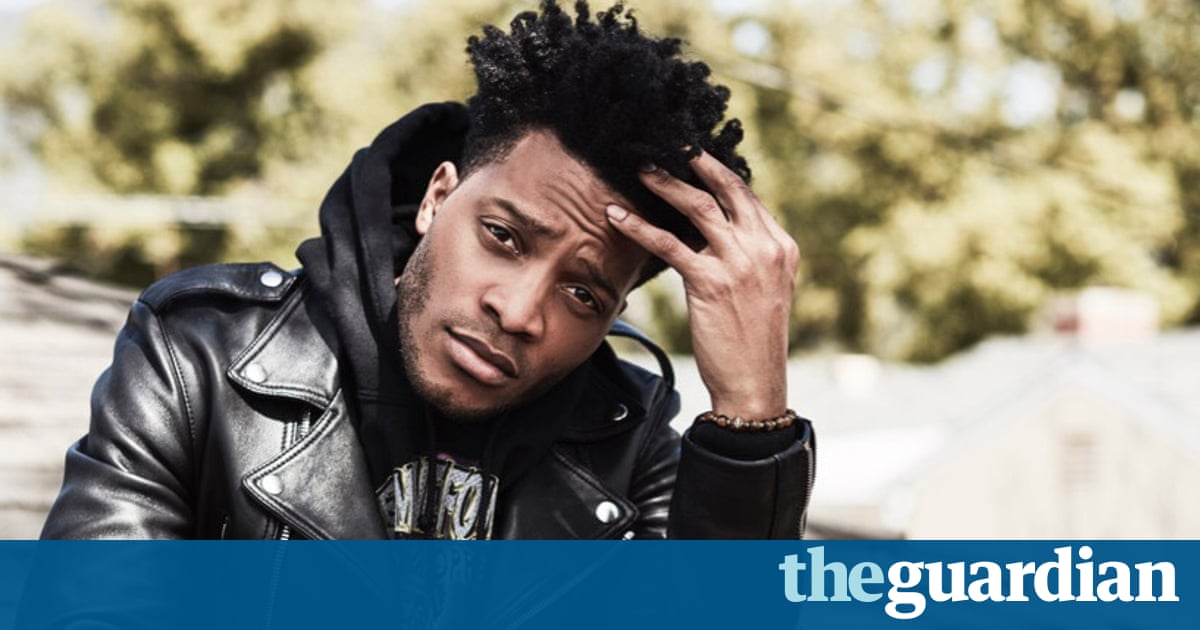 Arthur, the cranky, aging donut shop owner played by Judd Hirsch in CBSs confectionary-based comedy Superior Donuts, is lost in thought next to his neon Donuts Open sign. Hes worried about the future. The rapidly gentrifying uptown Chicago neighborhood surrounds him, driving out shops like his to make way for Starbucks and Whole Foods.
I feel like a relic, Hirsch laments. Its a reference to both himself as well as the hole in the wall hes owned for almost 50 years. That feeling is also brought into stark relief by the presence on the show of Franco Wicks, a young African American striver from Chicagos north side played by actor and comedian Jermaine Fowler whos been brimming with ideas ever since Arthur hired him, everything from new donut recipes to how the shop can draw new customers via social media.
That scene could almost serve as a mission statement of sorts for the sitcom that premiered in February and scored a season two pickup from CBS a few weeks ago. Production is set to begin in August on a show that, if you look close, is trying to pull off a peculiar trick: sticking to the comedic strictures of a sitcom format, while avoiding what Fowler tells the Guardian is the trap of going too broad, too vanilla that he says so many sitcoms have fallen back on in recent years.
Times are tough right now I think for a lot of people living in America, people who I think would like to watch TV that reflects their lives, says Fowler, who recently said he sees the show as part of a new lineage of woke TV including Issa Raes Insecure and Donald Glovers Atlanta.
Sitting in that category means making an effort to go there when it comes to everything from class to race, poverty, the economy and police brutality. We see the likeable laid-off working stiff, the overworked cop, the insufferably smug college yuppie, the cantankerous grouch behind the shop counter. Im proud of the material on the show were talking about, which is very topical, says Fowler. Nowadays, its pretty taboo for network TV to be doing this type of thing, but Im glad were getting to do it.
At one point, Arthur takes the fall for a minor crime Franco commits. The cops essentially shrug and let it go. Franco is grateful, then cheekily points out that the white guy has gotten off yet again. Comedy is sort of like that ice breaker, where you can say the most messed up thing, but you do it through humor and its kind of forgiven, Fowler says.
If you make someone laugh at a messed-up joke, but it has some truth to it, youre kind of off the hook. Its just kind of like you can deliver something very harsh and truthful to someone, but as long as you can make em laugh doing it, everyone is sort of like, wow, thats funny.
You ever watch Richard Pryor: Live in Concert? asked Fowler. Its about a man who was hooked on cocaine and not a great person to be married to. He had his demons. He was addicted to drugs. But you knew that about him, so the fact that he told stories in such a humorous light, you laughed with him. Because you knew it was all true and that thats how he coped with everything. Humor and comedy have always been the best way to deal with real life issues and just reality.
Fowler grew up in Hyattsville, Maryland. He started performing standup in high school and on his 20th birthday took a Megabus and moved to New York City to start his comedy career. Fowler performed on standup tours with the likes of Comedy Central and bagged his first standup special Give Em Hell Kid for Showtime in 2015. His own experiences are what guide his standup material. I dont know what the secret to doing standup well is, but I do know the goal is to be yourself as much as possible. And working harder than everyone else.
Audiences need more sitcoms built around real experiences, Fowler says. And hes proud of the little nods to current events the writers insert here and there, like the moment when Franco takes a painting off the wall inside the donut shop, realizes his back is turned to officer DeLuca (played by Katey Sagal) and quips how he must really trust her, to be turning his back on a Chicago cop.
I grew up in a very, very diverse neighborhood back home in Maryland, says Fowler, whos also a standup comic. And when I see that on TV shows, it makes me want to watch it, personally. I just gravitate towards that. I grew up watching TV shows like Martin, Fresh Prince, Moesha. Diversity is … it shouldnt be that hard to pull off. I cant believe this is still a problem. Youve got more than one type of people, one race of people, one culture watching. You gotta appeal to everybody.
The show is certainly a departure for CBS, which for years has packed its lineup with programs that skew mostly affluent and white like Kevin Can Wait and The Big Bang Theory while other networks embraced more diverse fare like ABCs Black-ish and NBCs The Carmichael Show. Jermaines Franco, meanwhile, and Superior Donuts give CBS its first black comedic lead in a generation.
Fowler helps steer roughly a dozen writers in the shows writers room with stories from his past the child of teenaged parents, encounters as a young man with the police, job-hunting. As for Fowler himself, who says his influences span from Pryor and Eddie Murphy to Daffy Duck, his career has put him right where he wants to be. His portrayal of Franco is a bit hammy, but also earnest and carefree. When explaining his excitement about the show, Fowler talks fast, frequently stopping mid-sentence to start a new thought. Its an honor, and also a chance to make a show that, his fingers crossed, he thinks has a chance to become a classic.
I tell you what, he says. Broadcast TV has a very classy but old-fashioned way of doing television. Thats what its always going to be. But youve still got to introduce young talent. And ideas and shows to the masses. Thats the way you build a bigger and younger audience, introducing younger writers, comics, TV shows to viewers. Youve just got to mix that. Youve got to mix generations. Otherwise, youre going to get one group of people watching the thing youre putting on.