Legendary Singer David Bowie Dies At 69
British singer David Bowie died on Jan. 10 at the age of 69. The news was posted on the artist's official social media accounts; Bowie's rep also confirmed the news to The Hollywood Reporter.
Bowie, who was born David Robert Jones in Brixton, south London, scored his first hit in 1969 with the song "Space Oddity" and secured an enduring fanbase with his early albums "The Man Who Sold the World" and "Hunky Dory."
But the singer's breakthrough didn't happen until 1972, when he unveiled his androgynous alter ego, Ziggy Stardust, which catapulted him from "cult figure to rock icon." He leveraged that glam-rock persona and popularity to produce albums for Lou Reed and Iggy Pop, before retiring the Stardust character in 1973. Bowie made his last appearance as his alter ego at a London show on July 3 of that year. At one point during the 18-song set, he told the audience, "Of all the shows on the tour, this particular show will remain with us the longest, because not only is it the last show of the tour, it's the last show we'll ever do."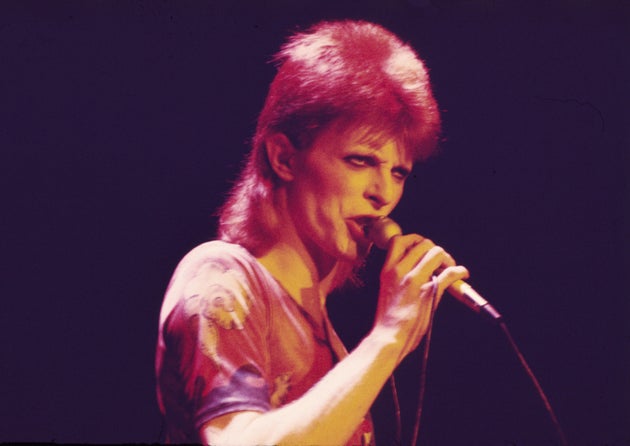 Rumors he was not well continued as Bowie went on to release his first single in 10 years, "We Are We Now" in January 2013, prompting his close friend, producer Tony Visconti, to deny that the singer had Alzheimer's disease.
Bowie released his 25th album, "Blackstar," on Jan. 8. Additionally, the musical "Lazarus," which he co-wrote with playwright Enda Walsh and features old and new Bowie songs, opened in December to positive reviews. It earned bragging rights as the fastest-selling Off Broadway show ever, according to The New York Times.
Bowie is survived by his model wife, Iman, their daughter Alexandria Zahra Jones, and his filmmaker son Duncan Jones, from his first marriage to Mary Angela Bowie (née Barnett).