Meet the 'new Londoners'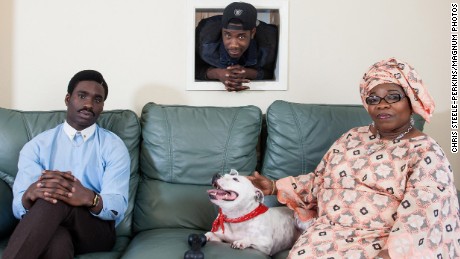 (CNN)There are just under 200 countries in the world, and photographer Chris Steele-Perkins is on a mission to document them all — in London.
The son of a Burmese mother and a British father, Steele-Perkins was born in Myanmar in 1947 and moved to a predominantly white town in England when he was about 2 years old.
"I've been always sort of conscious of being a little bit different," he said. "It wasn't a big problem for me or anything, but it made me aware of differences. And I think that sort of stayed with me."
Steele-Perkins considers himself an immigrant, and his photo series, "The New Londoners," looks at other immigrant families who have moved to the city.
"I thought, well, if I do this sort of series of photographs of normal people in normal life doing normal things — they just happen to be from every country in the world and they're living here in London — it would kind of make a statement," Steele-Perkins said. "Both a historical statement about the condition of the nation, and also hopefully a political one."
He started the photo series in early 2014, but his photographs are particularly poignant today. It was only a few months ago that the UK voted to leave the European Union.
A major reason was
immigration
, with many voters wishing to reduce the number of people entering their region.
In an
Ipsos Mori poll
conducted just one week before the referendum, immigration surpassed the economy as the most important issue for voters. And
recent research
showed that 49% of Britons felt there were too many immigrants in the UK.
Last year, 8.6 million people living in the UK
were born abroad
, with London being the most diverse area — approximately 37% of people in the city are from other countries.
"These are ordinary people, they're committed, they're serious, they pay their taxes, they contribute to the society that they're in," Steele-Perkins said. "I do think it's really dangerous when people start ramping up the notion that actually, rather than people who are here to contribute … they're here to take things from us rather than give anything back."
In the recent EU referendum, the "remain" campaign
dominated in London
, with 75.3% of the vote.
"London is almost like a city-state within the larger state," Steele-Perkins said. "I think the Brexit vote kind of gives you evidence of that in a way. London is really where the change is and the most progressive ideas are coming from."
Steele-Perkins believes that London is a thriving, successful city because there are people from all walks of life who call the city their home.
"I'm not (wearing) rose-colored spectacles or anything — there are issues, of course, but it's not a serious problem," he said about immigration.
He says it all comes down to which aspect people choose to feed into and focus on.
"Do you put all the emphasis on (the negative), or do you put emphasis on the more positive side of things?" he said. "Hatred and xenophobia are very easy emotions to light, and politicians find power in doing that. And they're very, very dangerous ones."
"The New Londoners" did not originate as a big idea. It began as a little one, where the photographer wanted to find a few families who had come from conflict zones. It then occurred to him that there were probably people in London who had come from around the globe. Photographing his subjects in their homes, though, was something Steele-Perkins knew he wanted to do from the very beginning.
"I wanted the idea that they belonged here," he said. "They had a home. These weren't tourists. It wasn't standing in Trafalgar Square or something like that."
Steele-Perkins says it's interesting how some people dress up formally for the photos, while others are more relaxed about the whole thing. And although meeting these families has been a really nice experience for him, it can get a little chaotic. Small children and dogs, he says, are a bit of a challenge for him at times; posing pretty much goes out the window, for instance.
"You can turn that to your advantage, in some respects, because it gives a liveliness to some of the photographs," he said. "You think, well, this is actually the family's space that I'm in now. It's them being themselves rather than them posing to be what they might think I want them to be."