Nigeria's missing girls: A glimpse of the stolen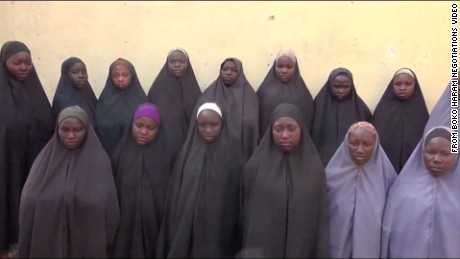 Maiduguri, Nigeria (CNN)They were stolen from their beds in a school dormitory — hundreds of teenage girls kidnapped by gunmen.
A few dozen escaped to tell of the night that
Boko Haram
militants brought terror to a Nigerian girls' school.
From the rest, silence. No sign of where they had been taken or what could have happened to them for almost two years, even as the world screamed #BringBackOurGirls.
The date given by Naomi matches information embedded in the video, suggesting it was filmed on Christmas Day, though whether that's true or whether the day was picked deliberately is unknown.
Most of the 276 girls taken from Chibok on April 14, 2014 were Christian. They are believed to have been forced to convert to Islam by their terrorist captors.
Their kidnapping — and a lack of progress in tracking down and returning the girls — sparked mass protests in Nigeria and across the world, with luminaries including Michelle Obama and
Malala Yousafzai
joining the social media campaign to
#BringBackOurGirls
Classmate's lucky escape
The Nigerian government says it has a copy of the "proof of life" video, and that it is in negotiations with those who supplied it to secure the girls' release, but says it remains unable to confirm or reject the recording's authenticity.
Lai Mohammed, the country's Minister of Information, said there were concerns that the girls did not appear to have changed sufficiently, that they are not as different as one might expect, given the two years that have elapsed since their disappearance.
Her heartrending sobs as she came to realize this were difficult to hear.
"We have seen enough," she says eventually. "We know that the girls are alive and they are hidden. We are not worried. Our daughters look well.
"We have heard a lot of stories before but this video confirms that they are alive. The government should negotiate with
Boko Haram
."
And there is comfort in this at least — to know that, even after two years, there is still a chance the girls will be brought home to their families.
"I didn't see my daughter but I now have more hope that she is alive," she tells us and her friends. "You can see what is yours on the screen but you can't get it.
"All we want is our daughters."