'Porn-viewing' Norwich library users banned – BBC News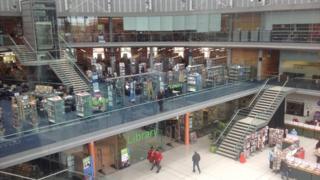 A library has banned three people suspected of using its computers to look at pornography.
The Norfolk and Norwich Millennium Library said it was investigating the "misuse" of computers, after a child spotted someone viewing the images.
"Clearly we don't want this type of content being viewed at our libraries," a spokesman for Norfolk County Council's library service said.
"We are always grateful to library users who report misuse."
The spokesman said the images were viewed via social media sites, which unlike other websites were not blocked by a filtering product.
"The huge majority of our computer users greatly value access to social media sites and use our computers appropriately," he said.
"Put simply, it is a choice of allowing access to social media sites or banning them altogether."