Sean Spicer: brash brawler in frontline of Trump's 'war with the media' – period
The White House press secretary used his first briefing to berate the shameful press but may find it hard to represent a master who communicates via Twitter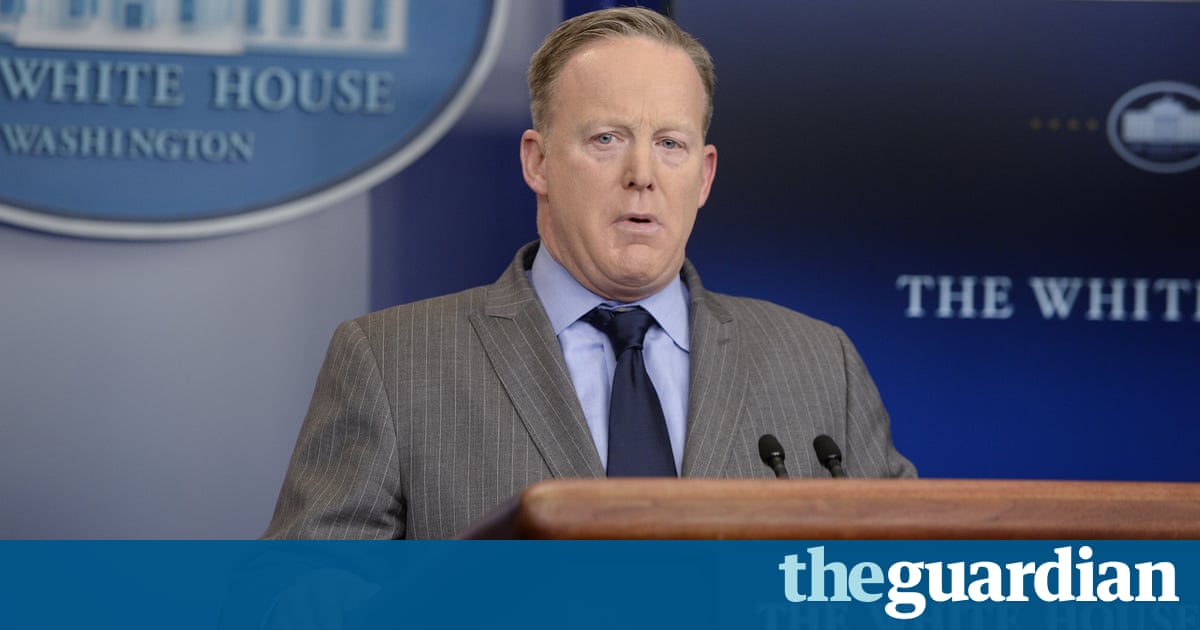 The world is about to hear a whole lot more about Sean Spicer. Period.
As the public face of the Donald Trump administration, Spicer will be giving reporters daily briefings from the podium in the West Wing of the White House.
In fiction, the role of press secretary was played with aplomb by CJ Cregg (Allison Janney), sashaying from President Jed Bartletts office to the briefing room in the TV drama The West Wing. In real life, Barack Obamas most recent mouthpiece was the urbane Josh Earnest, who had a penchant for jokey sports metaphors.
Spicer, to put it mildly, has a different approach.
He kept reporters waiting for an hour on Saturday afternoon before barnstorming into his press room debut. Stocky, cropped-haired and wearing a grey pinstripe suit that was a tad too large around the collar, the 45-year-old gripped each side of the lectern and launched a blistering tirade against the media over what he called deliberately false reporting.
One example, he argued, was to do with the size of the crowd at Trumps inauguration on Friday.
This was the largest audience to ever witness an inauguration period both in person and around the globe, Spicer said angrily. These attempts to lessen the enthusiasm of the inauguration are shameful and wrong.
It was not the first time Spicer has used the word period for emphasis and it will probably not be the last. He also warned, were going to hold the press accountable, a phrase that would be chilling in many regimes around the world.
Where Earnest was usually measured, Spicer was brash, loud and combative, entirely in sync with his boss, who earlier in the day told an audience at CIA headquarters that he had a running war with the media. He wrapped up after five minutes and marched off, ignoring a cacophony of shouted questions. The dissatisfaction on faces of reporters on the front row spoke volumes.
I feel like Im back at school, being given a ticking off by the head teacher, sighed one. Another filed a TV report that said Spicer tore a strip off the media as wide as an Iowa farm.