Shock over rapper Lor Scoota's murder underscores Baltimore's grief amid crisis
Tyriece Watson was killed coming from a peace rally last week and his life and death embodied the hope and the struggles of young people in the city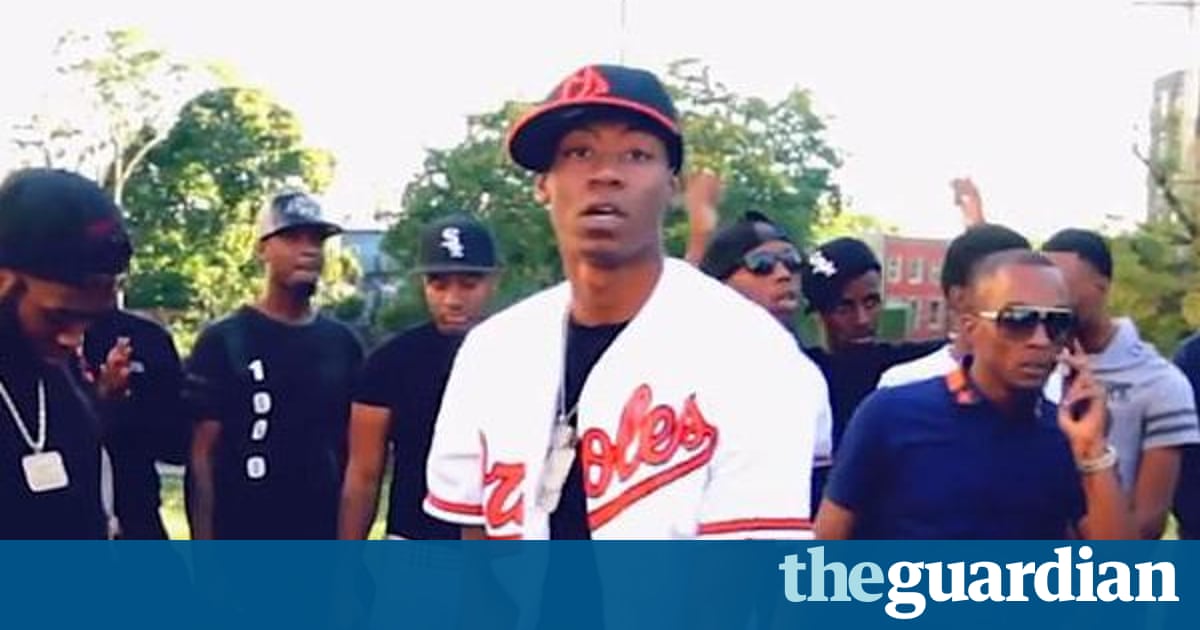 In life, the Baltimore rapper Lor Scoota embodied the struggles of a generation. Since his murder last Saturday, when he was shot on his way home from a charity basketball game to promote peace, Tyriece Watson Lor Scootas real name has become a symbol of the citys ongoing murder crisis.
He was Baltimore and Baltimore was him, said the city councilman Nick Mosby, calling him the voice of the city. Watson, he said, rapped about what people in the city go through every day.
How Im supposed to live with all this death in my sight / Keep you niggas by your side because niggas dying left and right / I see rest in peace on IG three times a night, Watson rapped in the song Ready or Not.
For the last week, Instagram and the city streets have been filled with tributes to Lor Scoota as another of Baltimores brightest becomes a hashtag, with national rappers such as Meek Mill and the Game adding to the chorus of grief and disbelief.
Damn, I seen so many young niggas fall victim tryna make it out, Meek Mill posted.
A man stepped out in front of Watson last week as he returned from a peace rally at Morgan State University and fired at least 11 shots into the car. Police have said the killer specifically targeted Watson.
Whenever you speak for the masses, youre a target for murder, pastor Jamal Bryant told a crowd of about 700 people at Watsons funeral on Friday. As soon as you are up next, somebody wants to leave you behind.
Police have created a special tip line for information about Watsons death but have made no arrests.
After word of Watsons death went out Saturday, a rally was planned for Penn North, the center of last years unrest over Freddie Grays death. Tyree Colion, a rapper from the generation before Lor Scoota, said he called representatives from Baltimores gangs and asked them to be there. I called them personally and said we gonna do this here and its going to be done peacefully, he said.
A vigil for the rapper turned into a standoff with police last Monday after crowds started to fill the streets and police in riot gear blocked off the streets. But the police department has also used Watsons death to repair some of the longstanding distrust that has made it difficult for detectives to solve homicides. The city already has suffered more than 130 homicides this year and broke records last year with 344 murders in a city of just over 600,000. African American males are the vast majority of those killed.
So many young people on social media talking about this tragedy are out assisting us in getting this information, TJ Smith, a Baltimore police department spokesman, said of the online response to Watsons death.
Though he was killed coming from a peace rally, Watson was a complicated figure. He is most famous for his 2014 song Bird Flu, in which he raps about an ambition to sell more cocaine and heroin to the citys many addicts. The song, which also spawned a popular Bird Flu dance, has been nearly ubiquitous in the city ever since and was remixed as a family-friendly sports version in which references to the citys avian-named sports teams replace drug lingo. But on the day of Watsons viewing, half a dozen kids were dancing not to the clean version, but to the version in which he raps: Right back on the block Im selling drugs like its a job/ Junkies walking around the block / I got them lined up on the wall.
To many from Watsons Baltimore, Bird Flu isnt really about drugs; it is about ambition. The songs narrator is tired of selling small amounts of illegal drugs and wants a bird slang for a kilo or two.
Not at all, by any means, do I condone selling drugs, but nigga, we gotta eat, said Kevin Moore, who lives near where Watson grew up in West Baltimore and filmed the arrest of Freddie Gray last April. We got kids, man. We gotta survive and you got people out here who are willing to go to jail to feed their kids. Guess what: Im locked up but I got a refrigerator full of food for my children, my bills was paid before I got locked up, so Ill do that little 60, 90 days.
Thats the level where Bird Flu starts selling packs, small bags to fill the fridge. But Scootas narrator wants more, not just so he can have flashy cars but ultimately so he can get out of the game. At an event in 2015, Scoota told students that his dream was to get my mother settled.
He was from their home, lives in their side of town, and for a lot of them he was the epitome of getting out, the former mayoral candidate and political commentator Catalina Byrd said. And so for him to not get all the way out and get killed in the way he did, and it look targeted, it make them feel like, you know, theres nothing but hate, even when youre doing good things.
Watson grew up in West Baltimore, off Pennsylvania Avenue, in the neighborhood where Freddie Gray was killed. He graduated from Frederick Douglass high school, across from Mondawmin Mall, where the riots broke out when officials decided to shut down public transportation, stranding hundreds of students in front of a line of police in riot gear.
According to the program distributed at Watsons funeral, in his early years, he stayed in trouble, and as a punishment he was forced to write on paper by his mom. She didnt even realize that she was preparing and grooming a star!
He released his first mixtape, Still in the Trenches, in 2013, followed up by Still in the Trenches 2, which featured Bird Flu, the following year.
Many have condemned the violence of street rap in Baltimore.
But Bryant, the pastor, told the crowd at Watsons funeral:
You cant be mad with the messenger. If you dont like the message, change what the messenger is seeing.