Thai people encouraged to 'socially sanction' critics of monarchy
Justice minister appears to back vigilantism which has risen in wake of King Bhumibol Adulyadejs death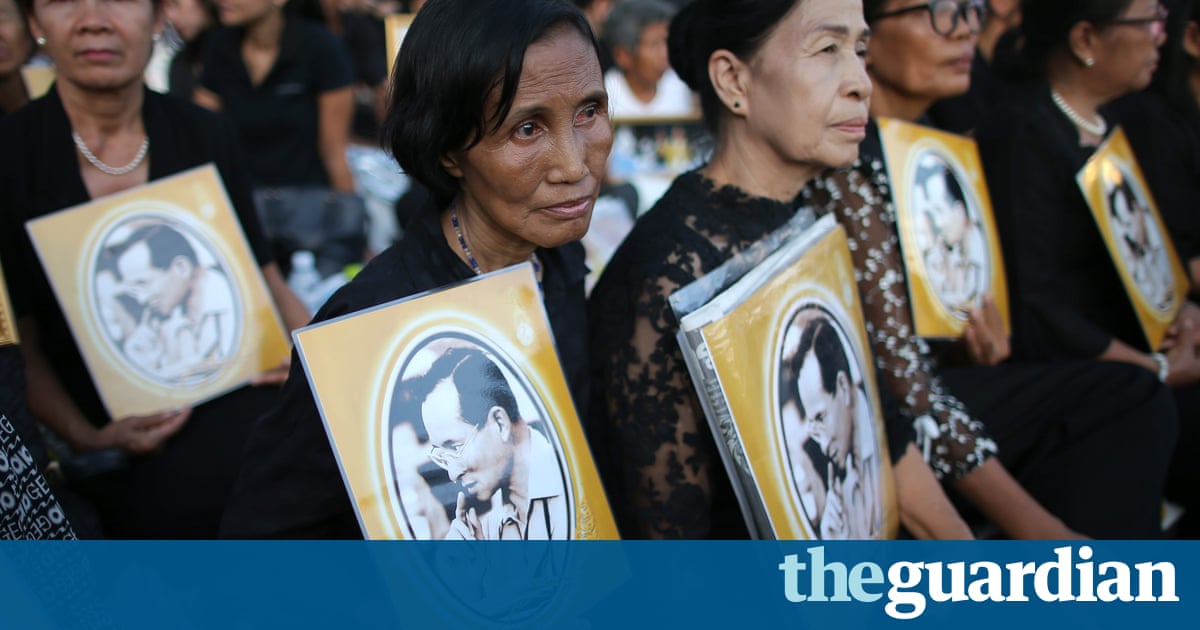 Thai people should socially sanction those who defame the monarchy following King Bhumibol Adulyadejs death, the justice minister has said, as fresh video footage emerged of people being attacked for allegedly insulting the institution.
The death last week of the worlds longest-reigning monarch has left the country bereft of its key pillar of unity and seen mass outpourings of grief.
It has also led to small but vocal ultra-monarchist forces scouring the web, bent on punishing anyone perceived to have insulted the monarchy.
The justice minister, Paiboon Koomchaya, said: There is no better way to punish these people than to socially sanction them, but he vowed to pursue those people who violate the law.
There has been a growing number of cases of vigilantism by royalists.
A video was broadcast live on Facebook showing a mob kicking and beating a man and forcing him to prostrate himself in apology for an alleged insult. During the beating, which appeared to take place in Chonburi, east of Bangkok, the man cried out: I didnt mean to do it, I love the king! Its my fault.
Another video uploaded to social media late on Monday showed an elderly woman on a Bangkok bus being berated and slapped in the face by commuters in the presence of police over alleged comments.
Thailands monarchy is protected by a draconian lse majest law that can result in punishments of up to 15 years jail for each insult.
Prosecutions have risen under the military, which seized power two years ago, and record-breaking sentences have been handed down in some cases.
The arch-royalist junta has done little to tamp down hardline public sentiment by presenting the monarchy as being under attack, said David Streckfuss, a Thailand-based expert on the monarchy.
Theyve created a sort of bunker mentality, he said, adding that there was no evidence of a republican movement in Thailand to justify such an approach.
The closest thing to any anti-monarchy movement is just a variety of unconnected individuals who want to be able to make public comments about the monarchy as it is an important public institution, he told Agence France-Presse.
The law makes detailed discussion or debate about the monarchys role and its future after Bhumibols 70-year reign all but impossible.
The atmosphere in Bangkok has been overwhelmingly sombre and calm since his death.
Bhumibols oldest daughter, Princess Ubolratana, 65, made a surprise visit to wellwishers outside the grand palace on Monday.
We have to work to move forwards, not backwards, she said according to video uploaded by witnesses.
But there has been a rise in social media calls by hardline royalists for vigilante action against alleged transgressors of 112, the criminal code that covers the law.
On Sunday, a woman on Koh Samui was forced by police to kneel before a portrait of the king in front of an angry crowd after she allegedly posted an insulting comment about the monarchy on Facebook. She has since been charged with lse majest.