Tourists advised to be vigilant in Turkey following coup attempt
Foreign secretary Boris Johnson urges calm over events in Ankara and Istanbul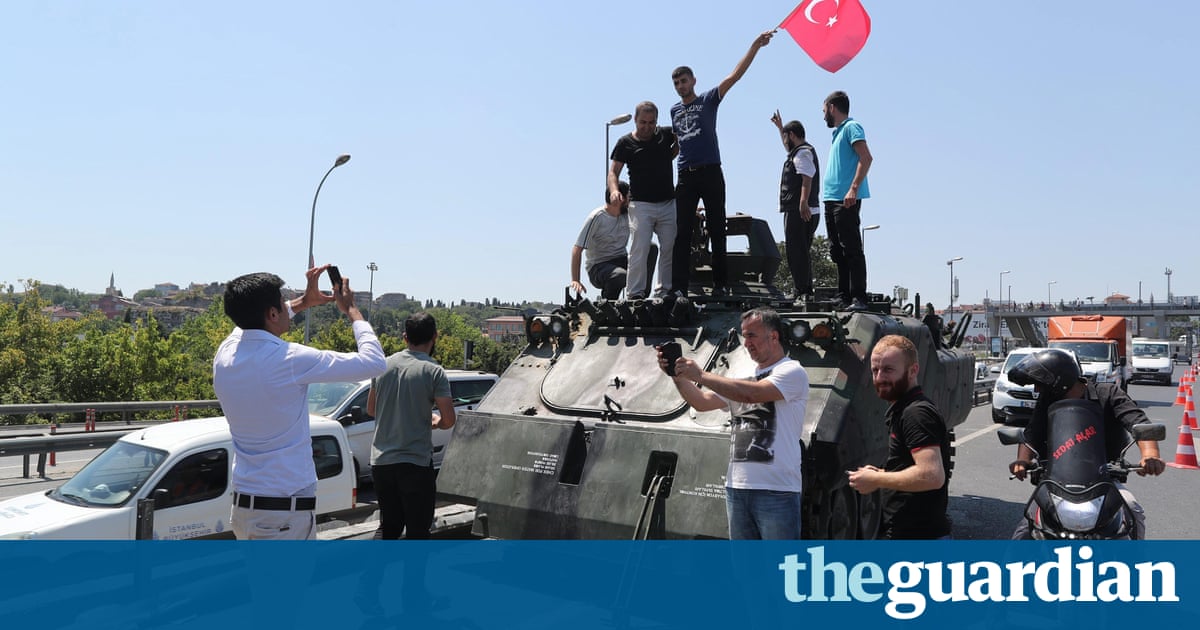 The new foreign secretary, Boris Johnson, has expressed grave concern about the attempted military coup in Turkey, urging an end to the bloodshed and advising British tourists to closely monitor official Foreign Office advice about travel to and from the country.
Johnson, who was appointed to the post on Wednesday night in the biggest surprise of Theresa Mays sweeping reshuffle, has faced a testing start in post, with events in Turkey following the drive-by massacre by a terrorist of 84 people on Thursday night in the French resort of Nice. Johnson, who has Turkish ancestry, told reporters: Weve been monitoring the situation in Turkey very closely overnight and remain very concerned about whats been going on there.
He said: The first thing to say is obviously we want to urge calm, the avoidance of any further bloodshed, and its crucial that we support the democratic institutions of Turkey and thats a message that was very much echoed of course by the Turkish foreign minister, my counterpart Mevlt avuolu, to whom I spoke a couple of hours ago, and he was very grateful for UK support at the UN and elsewhere. And obviously Ive also spoken to our diplomatic staff in Ankara and in Istanbul. Theyre doing a fantastic job, they are working very hard as you can imagine to do the best for the many Brits who are there, the many people who are there on holiday and they should follow the travel advice and well do our best to update you as soon as we can.
The UKs largest travel association, Abta, said it was liaising closely with travel providers and the FCO, who have said they were concerned by events unfolding in Ankara and Istanbul and were monitoring the situation closely, a spokesperson said.
Tourists have been advised to stay in their resorts, but no warning has been issued that the country, other than areas close to the Syrian border, is unsafe. The FCO statement reads: Given the current uncertainty we advise British nationals to avoid public places, remain vigilant and monitor the FCO website for travel advice.
The travel advice states that holidaygoers should stay indoors and avoid areas of conflict and take sensible precautions if you are in the vicinity of any military or security forces.
Any British nationals who are at the airport, should follow the advice of the authorities and contact your airline or tour operator, the advice continues. If you are due to travel to or from Turkey over the next few days, you should closely monitor our travel advice and check with your airline or tour operator before travelling.
British tourists flying to Turkey with Thomas Cook were handed letters regarding the situation on Saturday. Tom Garratt, who is flying to Turkey with his family to spend two weeks in the coastal resort of Icmeler, received the letter at Manchester airport while checking in.
The letter, which the Guardian has seen, said: You will no doubt be aware of the reported unrest in Turkey. Please be assured that your safety and security is our top priority. There is no indication that guests in the resorts on the south coast are affected. There has also not been any change to Foreign and Commonwealth advice regarding travel to Turkey.
However, the tour operator is offering free amendments and cancellations for all customers due to fly to Turkey on Saturday and Sunday.
Garratt said he was relieved his family could still go to the country. He said: I felt quite gutted about the possibility of my holiday being cancelled to be honest. Im not feeling too worried because I just think that we wont go out of the hotel complex too often as a result.
While most flights to resort towns are still going ahead as planned, flights to Istanbul have been cancelled by many providers. Flights from the city to Londons Heathrow airport were cancelled on Saturday until as late as 6.40pm, with British Airways and American Airlines stopping all scheduled journeys. Flights into Manchester have been cancelled until 8.30pm and there is a single service flying to Gatwick on Saturday, with others cancelled after bombs and gunfire in Ankara yesterday.
Many tourists vented their frustration on social media about the lack of advice. Richard Carey, whose youngest son and his mother are currently on holiday in Lara Beach and are not due home for another week, tweeted that he had hoped for better advice from holiday companies. He told the Guardian: They [my family] are not close to the capital and Istanbul, but you still get concerned. Weve had no advice from anyone as yet. They are OK, I spoke to them last night, but I havent managed to get hold of them today yet.
While he doesnt think his youngest son and his mother will be caught up in the current situation, he is worried about terrorist attacks. He said Im worried about the coup not because they are in the middle of it, but if the countrys security focus is elsewhere, then there is the opportunity for terrorist attacks and holiday resorts give them worldwide publicity.
In Washington, Barack Obama urged all parties in Turkey to support the democratically elected government while Nato, of which Turkey is a member, called for full respect for Turkeys democratic institutions. Donald Tusk, president of the European council, said the country was a key partner for the European Union and called for a swift return to Turkeys constitutional order.
Johnson has struck a careful, diplomatic tone in response to the crises in both Turkey and France, after politicians in the two countries had reacted with dismay earlier in the week at his appointment as foreign secretary by the new prime minister, May.
While still mayor of London, Johnson had offended Recep Tayyip Erdoan, president of Turkey, when he wrote a limerick for the Spectator magazine in which he described him as wankerer. He wrote the poem in May after the magazine asked for entries to protest against Erdoans attempts to prosecute a comedian in Germany. The poem also suggested Erdoan had sex with a goat.
Turkeys Daily Sabah, a newspaper with close ties to the ruling AKP government, described Johnson as anti-Turkey whose appointment raises questions about the future of Britains international relations. The newspaper highlighted comments by Johnson that expressed support for the Kurdistan Workers party (PKK), a designated terrorist organisation fighting an insurgency against the Turkish government. It also pointed to his Telegraph column praising the Syrian president, Bashar al-Assad, for his troops victory in removing Islamic State from the ancient city of Palmyra.
Turkeys presidency, however, issued a calm response to the appointment on Thursday. Turkeys relationship with the United Kingdom goes beyond personalities, said a Turkish official. We expect Mr Johnson to act in a professional and cordial manner in his new capacity. We have no reason to doubt that the United Kingdom will continue to treat PKK as what it is: a terrorist organisation.
Johnson has sent his condolences to Frances foreign minister, Jean-Marc Ayrault, since the events in Nice, expressing the UKs solidarity with the French people in the fight against international terror.
Before the mass killings, however, Ayrault had been disparaging about the appointment of Johnson, one of the leaders of the Brexit campaign, to the post of foreign secretary. He said: No, Ive got no worries at all about Boris Johnson. But you know very well what his style and method are. During the campaign, you know he told a lot of lies to the British people and now it is him who has his back against the wall. He is up against it to defend his country and also so that the relationship with Europe is clear.