U.S. working to confirm it killed top ISIS leader, again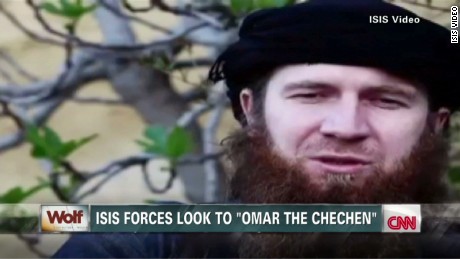 (CNN)The United States is trying to verify that an airstrike recently killed a high-ranking ISIS commander, and the Pentagon confirmed Wednesday that in a separate action it took out a commander of the Pakistani Taliban who was responsible for the deaths of more than 130 children.
U.S. warplanes targeted senior ISIS operative Omar al-Shishani in Iraq in the past few days, some four months after the coalition first thought it had killed him in Syria, according to two U.S. officials. The United States is still trying to confirm they got him this time, the U.S. officials said.
Al-Shishani, also known as "Omar the Chechen," was targeted by an airstrike near Qarayyah, Iraq, south of Mosul, the officials said. But they would not speak publicly until it's certain this time that he is dead. If he has been killed in Iraq, it's a sign that top ISIS operatives are still able to move around the region with some degree of freedom.
Al-Shishani was long considered one of ISIS's most capable military commanders. With a $5 million reward on his head, he once served in an elite Georgian military unit before joining ISIS in 2013. He is also thought to have been involved in running a prison in Raqqa, Syria, where foreign hostages were held.
In a separate strike July 9 that some U.S. officials said involved an American drone, the United States killed a top commander in the Pakistani Taliban, known as the TTP, in eastern Afghanistan, the Pentagon said Wednesday.